Preserved Fried Chicken Drumstick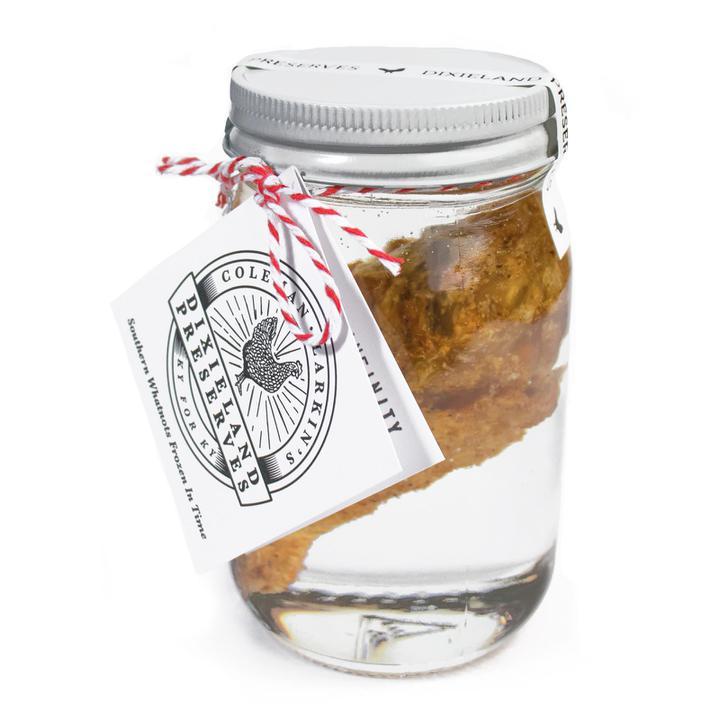 Southern Socks
XT-Z1-DXPRS-FCD
023985206793
21788685369433
$ 30.00
Regular price
$ 100.00
Honestly, is there anything better than biting into a warm, crispy KFC drumstick after a day at the lake? It fills the chicken-shaped hole in your heart like nothing else. And we wanted to capture that feeling in a product that didn't disappear into a pile of bones as soon as it's opened. So feast your eyes on "Chick-Infinity." It's the world's first everlasting KFC drumstick, and the second edition in the Dixieland Preserves line of bizarro Southern resin encapsulations by Kentucky artist Coleman Larkin. 
These golden brown delicacies were hand-breaded and fried according to the Colonel's original recipe at a KFC in Coal Run, Kentucky. A laborious proprietary process sees that each incomparable drumstick is preserved for eternity in crystal clear epoxy resin inside a 16-ounce mason jar with all the care of a Southern mamaw putting up greasy beans for the winter.
Read more about the process and the journey over on our blog. 
16-ounce mason jar with KFC drumstick preserved and suspended in clear epoxy resin. Made in Kentucky by Coleman Larkin, creator of the world famous Preserved KY Derby Horse Turd.